Everyone loves vegan chocolate chip cookie dough balls!  And if you have yet to discover them, you are in for a treat!  Cookie dough is that age-old guilty pleasure every kid (and adult) craves and loves to indulge in.  It is also one of those worse-for-you snacks, and not just because of potential salmonella (from uncooked eggs. . . gross).  Cookie dough is far easier to consume in large quantities than baked cookies.  Think WHOLE BATCH.  So they are much worse for your physique, and your health.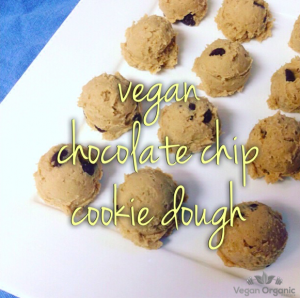 Enter this recipe from Sunwarrior's recipe blog by Party in my Plants.  "Single Serving Chocolate Chip Protein Cookie Dough."  WHAT?!  Sounded delicious, and the ingredients were pretty simple!  So I tried it, but my proportions didn't seem to make the right cookie dough consistency I was hoping for, even though it really did taste great!  The major downfall?  A "single serving" of this vegan chocolate chip cookie dough balls recipe – if you eat all of it – costs you big time!  Let's look at the stats:
Vegan Chocolate Chip Cookie Dough Balls – Original Recipe
One serving of this treat clocks in ata whopping 550 calories and 20 grams of fat!  It also has 64 carbs and 30 grams of protein.  Good for the protein, but not so good for the calorie counting!  That bowl of cookie dough better count as your meal replacement.  Or, if you're interested in vegan body building, that could definitely help you bulk it up!
But I can't stomach wasting that many calories on a dessert snack, vegan organic protein filled or not!  So, after many a guilty nights of indulging in this calorie fest, I developed my own take on it – vegan organic protein style!
This slideshow requires JavaScript.
Vegan Chocolate Chip Cookie Dough Balls
Ingredients:
1 whole organic banana
1 tsp organic (ok, everything listed here is organic!) vanilla extract
2 Tablespoons maple syrup
2 Tablespoons cashew butter (or any other nut butter you have lying around.  I find cashew butter to have the best flavor as opposed to almond butter which is a bit "nuttier" in flavor and peanut butter which makes it taste just like peanuts)
1/8 tsp sea salt
1 scoop Sunwarrior Vegan Protein Powder, Natural (We like the warrior blend the best, but this would definitely also work with Classic or Classic Plus varieties!  Comment below if you try it with those or another vegan protein type and let us know how it goes!)
1 scoop Sunwarrior Vegan Protein Powder, Vanilla (I find the combination of natural and vanilla proteins to bring just the right amount of sweet and salty to the cookie dough balls, but if you only have one flavor in mind, that should be just as good!)
1/4 cup chocolate chips
Vegan Chocolate Chip Cookie Dough Balls Recipe:

 In a medium sized bowl, mash one whole banana with a fork.  In my experience, the bigger the banana, the creamier the dough ball.  If it is too small or not ripe enough, you may need to add a bit more maple syrup to get the right consistency.  Ideally you would be using one medium, browned banana.
Add vanilla extract, salt, maple syrup, and nut butter, and mix well!  Don't worry if it is soupy at this point, you are about to add a whole bunch of dry protein mix to bulk it up!
Fold in two scoops of Sunwarrior Warrior Blend Protein (one  scoop of natural, one scoop of vanilla).
Add 1/4 cup chocolate chips and work through until evenly distributed.
Divide mixture into tablespoon sized cookie dough balls, 16 in total.
Enjoy! 😀  The banana in the dough balls will brown when oxidized, but will keep for up to one day later in the fridge or up to one month in the freezer.  Frozen vegan chocolate chip cookie dough balls are the perfect after school snack or sweet dessert for after lunch.
It doesn't get better!
And the macros?  These protein bites are just 48 calories a pop, meaning you can easily customize to under 100 or under 150 calorie portion sizes if you want two or three!  They have the perfect balance of 2 grams of fat, 5 carbs, and 3 proteins.  And the ease of making them and freezing for later means it's a snack you have no excuse NOT to have in your freezer.  And believe me – when a sweet (even chocolatey) craving kicks in – this vegan chocolate chip protein balls will do the trick!
Try it out, and let us know what you think!  Comment below!
Don't forget to sign up for Sunwarrior Protein Brand Medallion Rewards!  Become a Medallion Member today FOR FREE!  You will immediately earn:
10 % off each and every order!
FREE Shipping every time!
and 10% back in Medallions for your next order!  Which means your second and all other orders as a rewards members are 20% off!
But there's more!
Sign up today for your Sunwarrior Medallion Rewards membership and receive a weekly newsletter!  This includes a free code for medallions that will get you 5 additions coins (or 50 cents off your next order!)  It all adds up!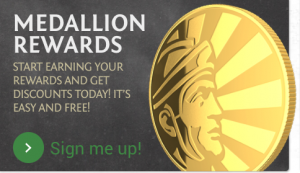 For the latest health and fitness tips, healthy recipes, and articles, visit our home page!